Retailers, Attend
The Expo For Free
With 800+ exhibitors and 100+ Exhibitor Big Ideas sessions, the Expo Hall is a massive marketplace for retail innovation. Explore new technologies, learn about groundbreaking solutions, and connect with more than 38,000 visionaries in retail today. And the best part...it's free for retailers.
Get your free pass today, as it will cost $50 onsite!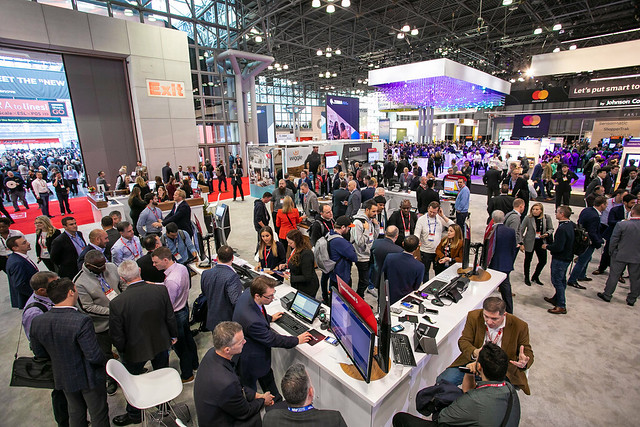 Free Expo Pass Q&A:
When can I attend with my Free Expo Pass?
Saturday, January 11 | 6:00 p.m. – 7:30 p.m.
Sunday, January 12 | 10:00 a.m. – 5:00 p.m.
Monday, January 13 | 9:00 a.m. – 5:00 p.m.
Tuesday, January 14 | 9:00 a.m. – 4:00 p.m.
How do I get my Free Expo Pass?
Register today to claim your Free Expo Pass and get complimentary entrance to NRF 2020 during expo hours.
Can my team attend with the Free Expo Pass?
We encourage you to bring your retail team so you can cover the entire 275,000-square-foot hall full of solutions for your company.
What are my pass options?
There are two different pass types. See which one is best for you.
I already registered. How can I upgrade my Free Expo Pass to get the full experience?
Log back into your registration or email registration@nrf.com for assistance.
What is included with my Free Expo Pass?
Opening Party on Saturday January 11.
Three-day admission to the expo hall.
Access to 800+ solution providers.
100+ Exhibitor Big Ideas Sessions.
The Innovation Lab, where you'll be able to test drive the newest retail tech.
The Startup Zone, which lets you experience emerging tech from the industry's best startups.
Numerous networking opportunities.
Guided tours of the expo floor (additional fee).
The Podcast Studio, featuring NRF's podcast,
Retail Gets Real.
The NRF Lounge, where you'll learn the benefits of becoming an NRF member.
Claim your free pass today!
Passes will cost $50 at the show, so get yours before you get there!