Innovative solutions take center stage
Our Expo is packed with five stages featuring more than 100 Exhibitor Big Ideas sessions, where the industry's brightest solution providers demo the latest products and share insightful case studies.
See the tables below for daily session schedules and presenting companies. If you'd like to view the full Exhibitor Big Ideas agenda, click here.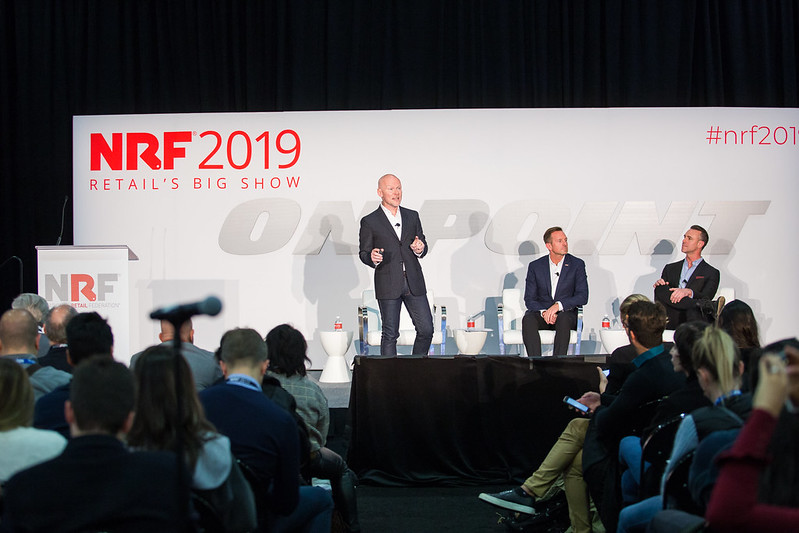 Sunday, January 12
Session Times
Stage 1,
Expo Level 1
Stage 2,
Expo Level 1
Stage 3,
Expo Level 1
Stage 4,
Expo Level 3
Stage 5,
Expo Level 3
10:15 - 10:45am
Tableau
Keyence
FedEx
Happy or not
IBM
11:00 - 11:30am
Toshiba
Brierley+Partners
Episerver
e-spirit
IBM
11:45 - 12:15pm
Truefit
Cybage
Ordergroove
Vestcom
agilone
1:00 - 1:30pm
Fiserv
Pending
Opterus
Onedoor
Acceo
2:00 - 3:00pm
Amazon
Datarobot
Salesforce
envista
PayPal Credit
3:15 - 3:45pm
Arm Treasure Data
Acceo
Cgtrader
Coremedia
Ultinous
4:00 - 4:30pm
Tulip
Symphony RetailAI
Mist, a Juniper Company
Dell
Badger Technologies
Monday, January 13
Session Times
Stage 1,
Expo Level 1
Stage 2,
Expo Level 1
Stage 3,
Expo Level 1
Stage 4,
Expo Level 3
Stage 5,
Expo Level 3
9:15 - 10:00am
SSI Schaefer
Google
Cisco
Shyft
Hughes
10:15 - 10:45am
JDA
Revionics
Board
Stibo
Adobe (Magento)
11:00 - 11:30am
Formation AI
Bookingbug
Pending
Axonify
FFC
11:45 - 12:15pm
Microsoft
SAS
Cisco
Generix
Yoobic
12:30 - 1:15pm
Narvar
MasterCard
Highjump
Dunnhumby
Ultinous
1:30-2:00pm
Envista
SAP
Eversight Labs
Avery Dennison
Enterworks
2:15 - 3:00pm
Amazon
Google
Blackhawk Network
Softeon
Comcast
3:15 - 3:45pm
Zebra
Anaplan
Retailzipline
Stibo
Envista
4:00 - 4:30pm
Tinyclues
CrowdAnalytix
Aerospike
Rimini
Optoro
Tuesday, January 14
Session Times
Stage 1,
Expo Level 1
Stage 2,
Expo Level 1
Stage 3,
Expo Level 1
Stage 4,
Expo Level 3
Stage 5,
Expo Level 3
9:15 - 9:45am
aptos
CrowdAnalytix
esri
Civalue
Resultsticks'
10:15 - 11:00am
Qualtrics
Precima
Redpoint Global
Workjam
Comcast
11:30 - 12:30pm
Pricer
Google
Badger Technologies
Zebra
MTI
1:00 - 1:45pm
Radial
Zebra
Lucidworks
c-b4
CDW
2:00 - 2:30pm
Amazon
Newstore
ActiveViam
Nedap
FFC
2:45 - 3:15pm
Daisy
sunmi
Bolt
Theatro
Hero