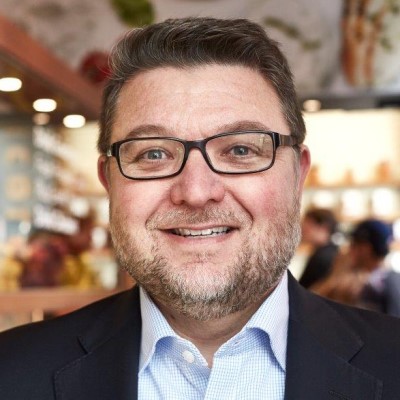 Senior Vice President, Impact & Communications
Purpose. That's what keeps Mark Broadhurst and his colleagues inspired at Chobani every day. As the Senior Vice President of Impact and Communications, Mark leads a team of passionate professionals who show the world why the best thing Chobani makes is a difference.

Mark's team is charged with telling Chobani's unique story, while also developing the programs that make that story so great. The Impact Team is responsible for Chobani's external and internal communications, employee engagement, ESG, public policy, community and social impact, and philanthropy. This work delivers on the philosophy of Chobani's founder and CEO, Hamdi Ulukaya, that business can and should be a catalyst for positive change: improving public health and policy, the environment, economic and social wellness of our communities, and the food industry.

Under Mark's leadership, Chobani is a leading champion of public-private partnerships helping those most in need. He takes great pride in Chobani's support for and hiring of refugees; the development of a scholarship program to expand educational opportunities in food and agriculture for students from underrepresented communities; and the launch of F.A.I.R. - a national corporate responsibility initiative to end child hunger. Food Access in Reach (F.A.I.R.) encourages businesses to "adopt-a-school" and pledge to make it food- and nutrition-secure while also raising minimum wages to at least $15 an hour to address poverty in our communities.

Mark has been toiling in public affairs, communications, and policy for all of his nearly 30-year career. A Dickinson College philosophy major, Mark began his career in presidential politics, worked in the Pacific for a territorial governor and on the Hill for a Member of Congress. He and his wife are the proud parents of five children and active in their community of Long Valley, NJ where they are also the founders of the anti-addiction non-profit, Joshua's Peace, in honor of their late son.