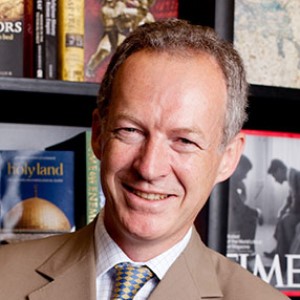 James Daunt is Chief Executive Officer of Barnes & Noble, the world's largest retail bookseller, of stationery and gift retailer Paper Source and of Waterstones, the largest retail bookseller in the United Kingdom. Mr. Daunt currently oversees approximately 600 Barnes & Noble bookstores and 125 Paper Source in the United States and over 300 bookshops across the United Kingdom, Ireland, The Netherlands and Belgium, which include Waterstones, Blackwell's, Foyles and Hatchards.

Mr. Daunt has over 30 years of experience in bookselling. After eschewing an early career as an investment banker, Mr. Daunt opened his own bookstore in London in 1990, called (unimaginatively) Daunt Books. Daunt Books now has nine locations, mainly in London, and remains independently owned by Mr. Daunt.

In 2011, Mr. Daunt was appointed Managing Director of Waterstones when businessman Alexander Mamut bought the struggling bookseller. Waterstones was subsequently restored to profitability, a success that led to the acquisition of a majority stake in the business by Elliott Advisors in July 2018. Elliott acquired Barnes & Noble in August 2019 and Barnes & Noble purchased Paper Source in May 2021.

Besides his successes in bookselling, Mr. Daunt was elected as an Honorary Fellow of the Royal Society of Literature in 2017 and appointed a Commander of the Order of the British Empire (CBE) in the 2022 Queen's Birthday Honours for services to the publishing industry.

Mr. Daunt is a graduate of Pembroke College at the University of Cambridge, where he studied history. He is married and has two daughters.