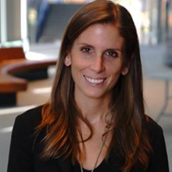 Executive Director, Marketing
Comcast Business Services
Emma Powers is Executive Director of Enterprise Marketing at Comcast Business where she leads the marketing of Comcast Business' technology solutions and managed services to Fortune 1000 companies and to the Federal Government. Emma and her team develop the marketing strategy, planning, and execution of high touch experiences, content, and digital campaigns designed to deliver double-digit annual growth rates for the Enterprise business.

Prior to Comcast, Emma led the Account Based Experiences marketing team at IBM, first creating the data-driven, client-centric program in the Watson AI business, and then scaling it across all of the software units at IBM. She has also held internal strategy, market intelligence, and product marketing roles, as well as spent time on the agency side - driving forward communications, earned media, and digital programs for B2B and B2C brands while at Brodeur Partners.

Emma has an M.B.A. from the Yale School of Management, and a B.A. in Psychology from Bowdoin College. She was recently 1 of 30 Marketing leaders named to The Marketing Academy's U.S. program.