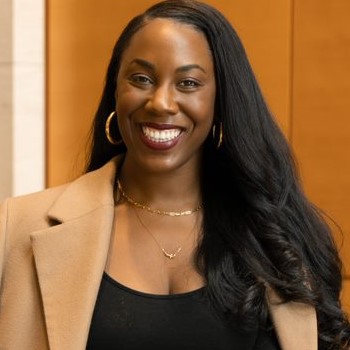 Head of Customer and Community Belonging: Growth and Enablement
Bahja Johnson is a dynamic retail and inclusion leader, with success devising innovative strategies that drive growth, increase market share, and deliver exceptional products and experiences to the customer.

She began her career at Gap Inc. in 2012 as part of the company's Rotational Management Program, subsequently advancing within merchandising roles across both Gap brand and Banana Republic. In 2018, Bahja co-founded the Color Proud Council, Gap Inc.'s first product inclusion initiative, with the mission of bringing diversity to the bottom line of the business. Successful council initiatives include launching the Banana Republic True Hues Collection, a range of products for every skin tone that challenged the industry's definition of the word "nude." In her current role leading Customer & Community Belonging, Bahja focuses on delivering inclusive products and experiences for our customers while being a multiplier for good for our communities. Leveraging her passion for inclusion, this new role as part of Gap Inc.'s Equality and Belonging team will help supercharge the power and impact of the company's portfolio.

Bahja holds a B.S. in Economics from The Wharton School at the University of Pennsylvania and is a member of Alpha Kappa Alpha Sorority, Incorporated. She enjoys dance and yoga in her spare time and is an avid Los Angeles Rams fan.