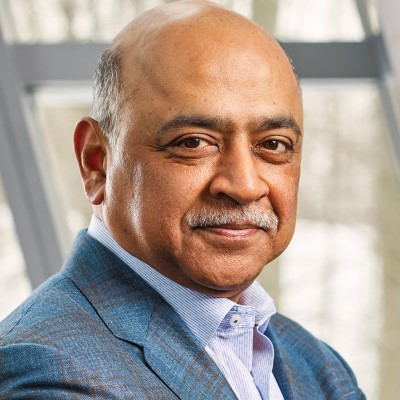 Chairman and Chief Executive Officer
Arvind Krishna is the Chairman and Chief Executive Officer of IBM. As a business leader and technologist, he has led the building and expansion of new markets for IBM in artificial intelligence, cloud, quantum computing, and blockchain. He has also played a significant role in the development of innovative IBM products and solutions based on these emerging technologies.

Over his 30-year career at IBM, Arvind led a series of bold transformations and delivered proven business results. He most recently drove the successful $34 billion acquisition of Red Hat – the largest software acquisition – that has defined the hybrid cloud market. Together, IBM and Red Hat give clients the unique ability to build mission-critical applications once and run them anywhere.

Arvind has an undergraduate degree from the Indian Institute of Technology, Kanpur (IITK) and a Ph.D. from the University of Illinois at Urbana-Champaign.