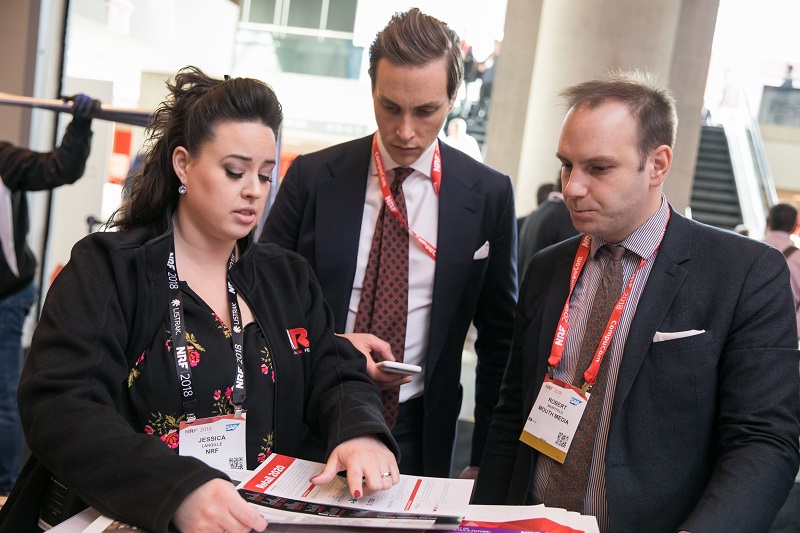 Come as a workforce.
Leave as a force to be reckoned with.
In a shifting landscape where rapidly evolving technology means never-ending disruption, team collaboration is more important than ever before. Retail and Retail's Big Show are exploding with opportunity. Bring your team to take advantage of it all.
4 reasons to bring a team
3. Tomorrow's technology
The best of the best are in our EXPO, and they are offering a peek at tomorrow's technology today.
4. Innovation Lab returns
Back by popular demand! This hands-on immersive experience lets your team test-drive the latest in AI, AR, VR, and other OMG worthy tech.
Sample of 2019 Retail Teams
Abercrombie & Fitch Co.
•
Amazon.com Inc.
•
Apple Inc.
•
Army & Air Force Exchange Service (AAFES)
•
BJ's Wholesale Club, Inc.
•
Clas Ohlson AB
•
Dick's Sporting Goods Inc.
•
Gap Inc.
•
Grupo Cortefiel, S.A.
•
H & M Hennes & Mauritz L.P
•
IKEA North America Services, LLC
•
Levi Strauss & Co.
•
Liberty Interactive Corp.
•
Macy's
•
Mobivia Groupe
•
Nike Inc.
•
Nordstrom, Inc.
•
Phantom Fireworks Showrooms, LLC
•
PVH Corp
•
Ralph Lauren Corporation
•
Target Corporation
•
The Frye Company
•
The Home Depot, Inc.
•
VF Corporation
•
Walt Disney Parks and Resorts Merchandise
Retail Team Rates
Save big when you register 5 retail full conference individuals from the same company. That's all there is to it.
Both NRF members and non-members are eligible.
All prices are per individual
Need help with registering?
Contact